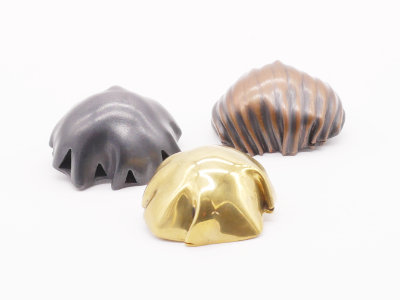 I use a range of materials to make jewellery.
Silver
To care for silver jewellery, I recommend using a polishing cloth or silver dip to prevent the natural process of tarnishing. Clean your jewellery using lukewarm soapy water and a soft brush.
I do not recommend the use of silver polish and silver dip on any jewellery that has a patina. Avoid harsh chemicals including bleach, chlorine and salt water. Sulphur products (including eggs) will tarnish silver.
I suggest removing your jewellery prior to cleaning or swimming and keep jewellery away from hairspray, perfumes and cosmetics.
Patinas
If your jewellery has an patina (such as oxidisation) I recommend avoiding chemicals and silver polish. Scratches may also damage the patina. Natural wear will polish off the patina from raised areas and edges – this adds to the character of the piece.
You can gently clean patinated jewellery with warm water, a little detergent and a soft cloth or soft bristle brush.
If you want to renew the patina on silver, put it near a product containing sulphur. In a plastic bag with a hard-boiled egg yoke will do the trick! Alternatively, contact me and I will renew the patina and wax your jewellery free of charge (not including any postage).
Satin finishes may start to polish naturally over time in high-wear places such as the inside of ring bands.
Copper, brass
Copper oxidises quite quickly, so the jewellery you purchase with a polished pink appearance will darken noticeably. I may use an archival wax to protect the surface of jewellery. This will wear off over time, but it can be replaced.
I design my jewellery to allow for the change in colour that copper brings – it is a natural process, and I embrace that as a positive, organic change.
Similarly with brass, I use an archival wax to protect it and slow down the oxidisation process.
Other metals
I also use titanium and mild steel. Titanium is quite stable – it will not noticeably tarnish. Mild steel is usually painted or is heat treated which gives it a patina, and is then waxed.
I may use other metals such as bronze and monel at times, and care instructions for them are similar to brass and silver, respectively.
About zinc: I have used zinc on occasion. Do not allow zinc to come in contact with silver dip. Wash immediately with warm water if zinc is exposed to silver dip.
Patinas
Oxidisation patinas on copper are similar to silver – they are a surface treatment that can be damaged by chemicals or scratches.
Avoid brushing your patinated piece against hard objects, and store it in a soft bag when you are not wearing it.
Clean with a soft damp cloth. Avoid chemicals such as jewellery dip that will remove the patina.
Magnets
Some steel brooches use a Rare Earth (Neodymium) magnet fixing.
Please do not wear a magnet if you have a heart pacemaker or other heart device. I can make a traditional pin brooch for you.
I can supply replacement magnets if required.
Gemstones
Stones all vary in hardness, and should be protected from knocks and chemicals. Keep stones clean with a damp cloth.
Some gemstones are not stone at all, such as amber, pearls and coral, and need extra care as they can be softer.
Pearls
Only use jewellery cleaners labeled as safe for pearls. Do not use an ultrasonic cleaner or steam-clean pearls. Never expose pearls to dish or wash detergents, bleaches, powdered cleansers, baking soda, or ammonia-based cleaners. Do not use toothbrushes, scouring pads or abrasive materials to clean pearls. Take your pearls off when applying cosmetics, hair spray, and perfume, or when showering or swimming, and avoid wearing pearls with rough or scratchy fabrics.
Strung pearls
Do not wear pearls when their string is wet, or hang them to dry. Have your pearls restrung regularly – once a year if you wear them often.
Other materials
I may also use wood or porcelain or anything else that I feel works. These non-traditional materials sometimes need a little more care. Wood is usually finished with a carnauba wax. Clean with a soft dry cloth.
Construction
Where possible I use mechanical settings rather than chemical for any stones I use. A well constructed mechanical setting is more reliable than an adhesive*.
I use 925 silver for earring wires and posts.
*In certain circumstances it is prudent to use a construction/jewellers adhesive, where I deem this method of fixing is suitable and reliable over the long term, and a mechanical fixing is not viable.
Surface protection
My work is often treated with an archival wax. This helps protect the metal from exposure to the air which in turn reduces the tarnishing process. Over time the wax will wear off. Cleaning your jewellery will also remove the wax. I am happy to re-finish and wax your jewellery for you.
Cleaning
Most of my work can be cleaned with silver polishing cloths, or dipped in a good quality silver dip, for a few seconds. Opals, pearls, emeralds, and all other soft or porous stones can be safely cleaned in an ionic cleaner by a reputable jeweller.
Hand made
All of my jewellery is hand made. I design and make each piece in-house.
Hallmarking
In Australia there is no requirement to assay silver, so the term 'hallmarking' is misleading. I buy the metals I use from reputable Australian suppliers. This means if a piece is stamped '925' you can be certain it is 925 (or Sterling) silver. Please note that if a piece has another metal such as copper I may still stamp it '925' if the majority of the work is in sterling silver.
Recycled metals
Where possible I buy recycled silver and gold. This is metal that has been reclaimed, purified and processed. This reduces the reliance on mining.
Your ring size
Download my ring size guide to determine your ring size.
I list the size of each ring in my shop.
In some cases you may be able to commission different sizes. Please contact me for more details. Some rings cannot be resized and will only be offered in the size shown.
A narrow band can be approximately ½ – 1 size smaller than a wider band. Your fingers change size depending on the temperature and how active you are. If you have large knuckles make sure the ring can slip past them. Rings slip off when wet and slip on easiest when your fingers are dry.